HILLTOP'S TREE N KATE

X

TWIN PINES JAM II

PUPPIES

APRIL 24, 2011

Kate is an OMCBA Bench Champion, NKC Squirrel Champion and NKC Bench Champion and a really super coon dog too!  Then to top it off she is a Junior Jukebox and Bonnie Beti (Hall of Fame) daughter!  She is a sister to Tootie Fruity and Bubba Shot the Jukebox.  We just couldn't have too many of those dogs in our kennels!   We took her to the Missouri NKC World Championship hunt March of 09 where she won the Champion Bench Class, got 3rd in the Squirrel hunt and 6th in the Night hunt.  She is fun to hunt with and nice to be around!   She has had three previous litters and those puppies are doing great!   We are pleased to announce another litter out of Twin Pines Jam II and Kate is here! 

We bred Kate to our Jam dog that has produced so many good ones!  Jam has won lots of titles and is a fun dog to hunt with as when he trees he has the squirrel!  You can read more about Jam and his pedigree on his page.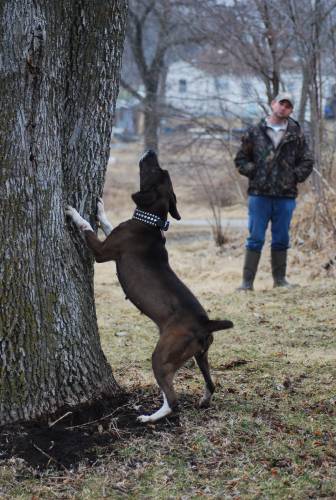 Kate gave us a nice litter of eight puppies this go around - two girls and six males -  Kate is a good mama!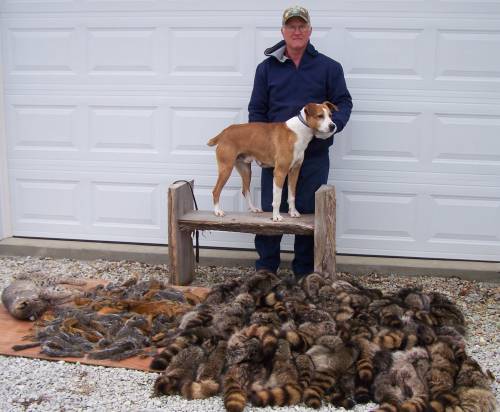 Kate with her favorite way to tree with her feet on the tree!

Another picture of Kate at bottom of the page too...

CONTACT

DONNIE OR MARY CLARK

8550 MTN CUR LANE

MOUNTAIN GROVE, MO  65711

417-668-0003

417-259-0098 (Donnie's Cell)


PLEASE FEEL FREE TO USE YOUR CREDIT CARD TO PAY THE DEPOSIT OR THE BALANCE...THANKS!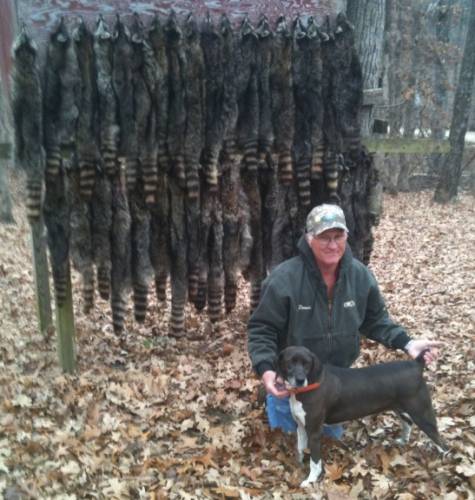 Kate and Donnie after a good 4 nights of coon hunting!

Jam pictured with some hides we had one year

Pictured at 4 and 1/2 weeks old.  They are going in and out and playing hard now.  I started them on some dry food and some milk replacer with canned dog food and they are all eating good!  They have had their last wormings and first puppy shots.  Ready to go...Let me know your pick up plans. 

BOY 1 - BLACK AND WHITE - Big white on nose to blaze, ring with more on the left with a mark on neck and a black mark in the ring on the right.  High front socks and white to the body on rears.  Low dews and NBT  $300.00  At his new home now!

.BOY 2 - BLACK AND WHITE - He is the biggest of the litter.  Has white on his nose with more to the left.  Blaze and broken line ring with a Z on right.  High front socks, white to body on rears, dews  $300.00  SOLD TO HUEYCOMEAUX - At his new home

BOY 3 - BLACK AND WHITE - Huge big ring, big white on nose to blaze.  High front socks with white to body on rears.  dews and NBT  $300.00  SOLD TO DANNY SIBLEY, LA  At his new home

BOY 4 - BLACK AND WHITE - This pup looks more like Kates coloring...a liver"ish" dark brown.

He has white on his nose with more to right, smaller blaze, dot on back of neck and a line ring on the right side.  High front socks and white to body on right rear and small sock on left rear.  Double dews  $300.00  SOLD TO RICKY AIME, LA  At his new home

BOY 5 - YELLOW -  White on nose to big blaze.  Small socks all around.  Dews and NBT  $300.00

SOLD TO KYLE TURNER, KY At his new home

BOY 6 - YELLOW - Small white on nose to the left and tiny line blaze.  (this might fade away to  just a dot?)  Ring on right side.  Small white socks all around.  Double dews Longer NBT with a crook $300.00  SOLD TO JORDAN ANDREWS, LA  At his new home

GIRL 7 - BLACK AND WHITE - She has white on her nose to narrow blaze.  Ring on right only that goes into front leg.  Left front sock small along with small rear socks.  Natural Bob Tail  $300.00  SOLD TO KIM RUSH, AR  AT her new home

GIRL 8 - YELLOW - Huge white on nose to big blaze over head.  Line ring on left side of neck.  High left front and small right front and rears.  Dews and long natural bob tail.  $300.00.   SOLD TO HUEY COMEAUX, LA  At her new home