EVERYBODY'S

BUDDY

OMCBA BENCH CHAMPION

Missouri NKC State Championship Best Male of Show

BLUE BRINDLE WITH WHITE TRIM

We really like having Buddy in our kennels!  He is a great dog to handle and be around!  He likes to hunt and tree and is passing that trait on to his puppies!  We have been super pleased with the quality of pups he has been throwing!  They are early starters and hard tree dogs!  Thanks to those that have purchased pups out of Everybody's Buddy and do keep us posted!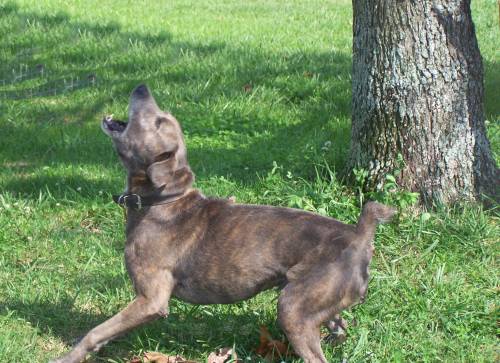 He's NOT afraid to bark at those coons!

Winning on the Bench at Twin Lakes OMCBA State Hunt on a COLD afternoon!  Went on to become Best Male of Show that day.

Everybody's Buddy with our 2008-2009 hides, squirrel tails and one lonely bobcat!  He is a pretty dog and makes this picture look even better!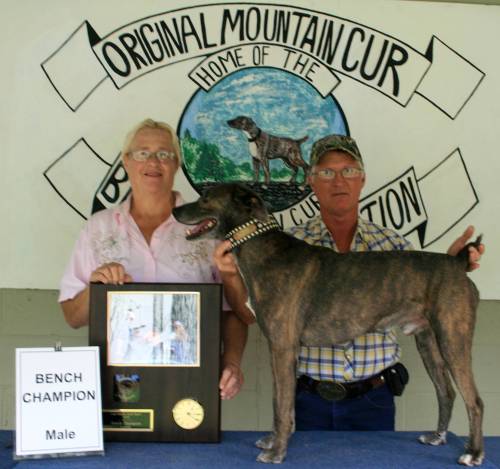 Everybody's Buddy winning the Champion Bench at Jamestown, TN in September, 2009.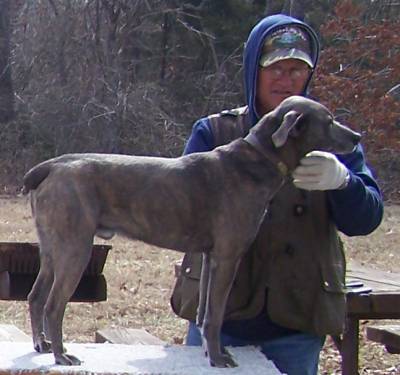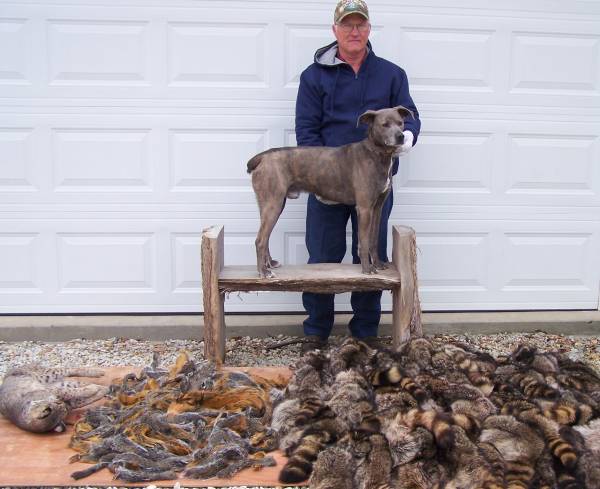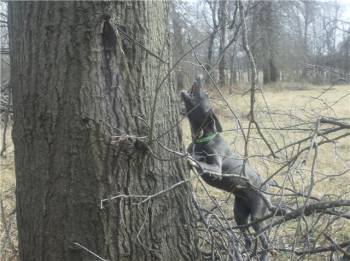 Here are a few of the pups out of Everybody's Buddy.  They are doing exceptional and starting early!  If you'd like your pups photo here, be sure to send it to us!  THANKS for getting the pups to the woods and making them what they can be! 

Here is one of the first puppies from Buddy out of Black Widow.  She is only 5 months old in the photo and looks like she knows what to do!!!  Thanks Troy Bates!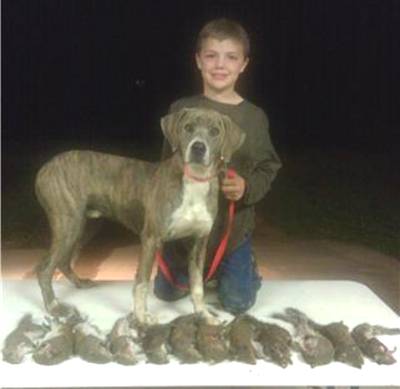 This is Ross Barnett and Bruiser who is out of Blue Suede Shoes.  When Ross and his Dad took him hunting for the first time at 6 months old they got several squirrels and Bruiser has never looked back.  He is pictured here at 10 months old.

We also own a female pup from the same litter, Everybody's Shoes.  She is doing good on squirrels and coons and is a really pretty blue!   Will post a photo soon.

This is Eagle Eye out of Mtn. Jackson's Twister.  He is pictured here the 1st of March treeing on a coon.  Donnie said it was neat that when the pup came around the house he knew it was hanging up in the tree.  This is the very first time this pup has seen a coon or a cage!  He went balistic!  He is 4 months old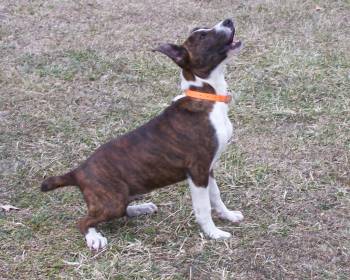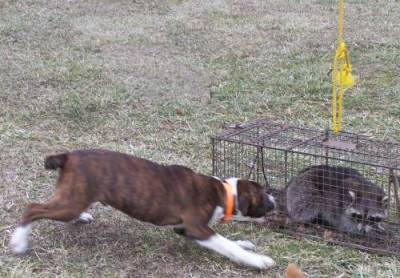 Pedigree for EVERYBODY'S BUDDY
Blue Brindle with white trim
Sire
Gaietoo's Jukebox Grand Sq Champion and OMCBA HALL OF FAME
Sire
Cypress Creek Hardwood
Sire
Poncho Junior
Sire
Copeland's Jack x Kemmer's Ole Rough - OMCBA HALL OF FAME
Dam
Faires Queen
Dam
Sudie
Sire
Rock Bluff Jack x Tennessee Bob
Dam
Phillips Yellow Gal
Dam
Cypress Creek Babe
Sire
B & K's Big Ted
Sire
Hallmark's Tobe
Dam
Snoppy
Dam
Susie
Sire
Cooner OMCBA HALL OF FAME

Dam
Catoosa Sadie
Dam
Simple Pleasures Dollie
Sire
Franklin's Thunder
OMCBA HALL OF FAME
Sire
Smith's Streak Jr
OMCBA HALL OF FAME
Sire
Smith's Streak
OMCBA HALL OF FAME
Dam
Bear Creek Dottie
OMCBA HALL OF FAME
Dam
Hardwood Georgetta
OMCBA HALL OF FAME
Sire
Roy's Bounce

Dam
Tiger Annie
Dam
Jordan Creek Tippy
Sire
Jones Buddy, Jr
Sire
Jones Rufas
Dam
Jones Lucky
Dam
Queen
Sire
Buddy x Kemmers Ole Rough - OMCBA HALL OF FAME
Dam
Browns Yellow Sally