TWO BITS IN THE JUKEBOX

  AND BUBBA SHOT THE JUKEBOX

PUPPIES ARE HERE!  August 29th

only 2 girls - 6 boys

These puppies are out of our good direct daughter of Jukebox.  Her Dam is out of Franklin's Thunder (Hall of Fame dog) and some Toot's Dale and Toot's Candy breeding on her Dam's bottom side.   Jill hasn't got to go to the woods in quite a long time, but was a good tree dog!  The puppies sire, Bubba Shot the Jukebox is Donnie favorite dog to take hunting!   He is out of Junior Jukebox and Bonnie Beti (OMCBA Hall of Fame Dog) and has a fist full of titles too.  Bubba is a full brother to our Tootie Fruity, Queen of Hearts, Hilltop's Treeing Kate and a half brother to Grizz and Trouble with the Truth.  So, a long line of really good tree dogs!   These puppies carry the blue gene from both their Sire and Dam. Previous pups from this cross are doing very good in the woods!  NOTE:  Sometimes these pups are alittle slower to start but do make great, solid tree dogs!

Here is a chance to get a quality pup at a VERY REASONABLE price!  If you see a puppy you would like to reserve, please contact us to make sure it is still available.  Then send a 50.00 non refundable deposit to hold this pup.  They will be ready to be picked up after weaning. We are going to be gone off and on, so check with us on your pick up plans...

Jill pictured with a litter  that was out of Beaver Creek Clyde (another full brother to Bubba Shot the Jukebox) (such a pretty photo, hated to get rid of it! 

CONTACT:

DONNIE OR MARY CLARK

8550 MTN CUR LANE

MOUNTAIN GROVE, MO  65711

417-668-0003


Please feel free to use your credit card thru Pay Pal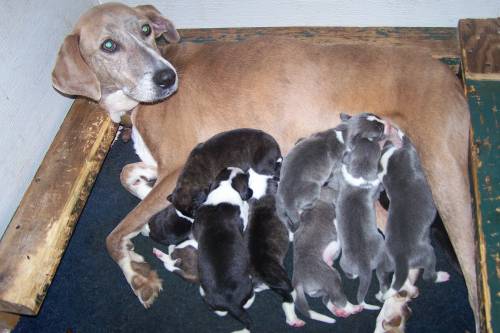 Puppies come with OMCBA puppy papers, their first shots, several wormings and will be eating good and have alot of loving!  Hope you see one you especially like!   If you can pick up your puppy that is great!  We love showing off our dogs and getting to visit!  We can also use Clint Little - www.puppyexpressdelivery.com or we can fly to the nearest big airport.  Both run right around 200.00.   Thanks!!!!! -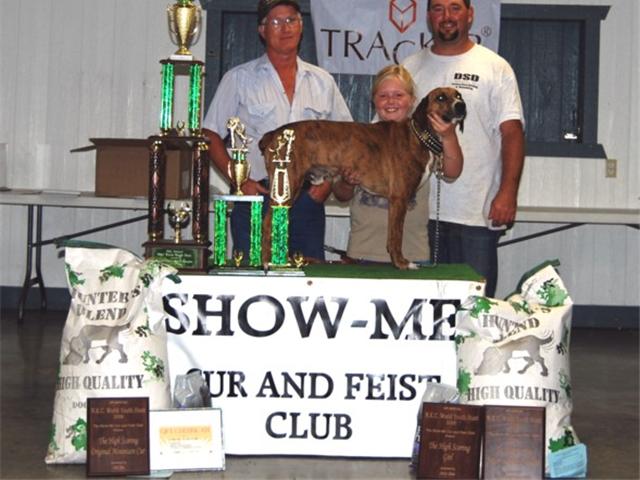 Here is one of Bubba's accomplishment at the 2008 NKC World Youth Hunt.  He was handled by Raynie Hurley and is pictured here with Donnie and Raynie's Dad, Everett.  Bubba was World Squirrel Champion, and also placed in the treeing contest and night hunt.  Raynie was 1 point away from being High Scoring Over All.  This is a great hunt for both the kids and the dogs! 



4 weeks old in photos.  Weaned now and READY to go! Please let me know your pick up plans!  Thanks!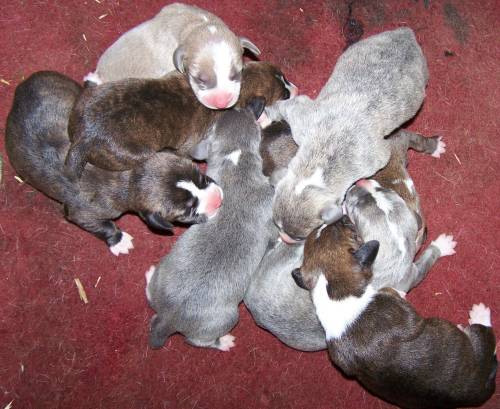 Group picture of this litter at one day old

JILL'S GIRL 1 - BLUE BRINDLE -

White on nose to right, narrow blaze over top of head.  Small socks - dews  $250.00  SOLD SYDNEY WHITE, AR At her new home

JILLS GIRL 2 - OFF COLORED BLUE'ISH' - Will be the buckskin blue.  Whie on nose to a blaze, 3 dots, medium size socks left front and rear.  Smaller socks on right front and rear.  Natural Bob Tail and low on foot dews  $250.00 SOLD TO RYAN ECK, IL  At her new home

JILLS BOY 3 - BLUE BRINDLE - White on nose to narrow blaze.  Dot on back of head.  small white on feet Dews  $250.00  SOLD TO BRANDON PUGH, MS Headed to his new home

JILLS BOY 4 - DARK YELLOW - White on nose to blaze.  line on neck.  small socks with left front smallest.  low on foot dews  $250.00 SOLD TO THE CECIL HAYES FAMILY, WI  At his new home

JILLS BOY 5 - DARK BRINDLE - White on nose with narrow line blaze, white toes only on front feet.  more white on rear feet.  Dews and Natural Bob Tail  $250.00  SOLD TO DAVID AND VALERIE HAMILTON, TX  Paid In Full

JILLS BOY 6 - DARK BLUE - line blaze with dot on neck.  white sock with more on left front and left rear.  Dews Natural Bob Tail  $250.00  SOLD TO BRIAN HOLLOWAY, AR Headed to his new home

JILLS BOY 7 - DARK BRINDLE - White on nose to blaze and a nice size ring.  Medium white socks - smallest on right front.  Dews  $250.00  SOLD TO WILLIAM AND KELLY HAMLET, TN  Deposit Received

JILLS BOY 8 - DARK BRINDLE - White on nose to small blaze, small white on feet.  Dews $250.00

SOLD TO CHRIS AND TONI BENEDICT, MO Paid In Full